[Female] b. 29 MAY 1934 - d. 3 JAN 2014 Petersburg, MI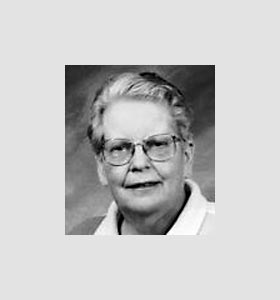 Burial Monument, Zion Evangelical Lutheran Church Cemetery, Petersburg, MI
Obituary:
Arlene L. Burns, age 79, of Petersburg, Michigan peacefully passed away at her home with her family by her side on Friday, January 3, 2014. Born to Marguerite (Doscher) and Francis Fortress, and a graduate of Devilbiss High School in 1952. She practiced as a diploma nurse since graduating from Toledo Hospital School of Nursing in 1955, until retiring in 1990.
Arlene married Robert E. Burns on April 27 1957. They had three children, Marcia (Raphael) Scherer of St. Cloud, MN, Stephen (Beth) Burns of Mazon, IL, and Kevin (Maureen) Burns of Britton, MI.
In addition to her children, Arlene is survived by 7 grandchildren, Aaron and Allison Scherer, Jeremiah and Jennifer Burns, and Colleen, Bridgette, and Paul Burns. In addition to her parents, she was preceded in death by her husband, Robert; a sister, Phyllis, and a brother, Norman.
Visitation will be held at Capaul Funeral Home, Ida, Michigan on Tuesday, January 7, 2014, from 2 p.m. to 8 p.m. and a celebration of Arlene's life will be held at Zion Evangelical Lutheran Church of Summerfield, 7295 Kruse Road, Petersburg, Michigan on Wednesday, January 8, 2014, beginning with visitation from 9 a.m. to 10 a.m. with services immediately following.
Memorial donations are suggested to Monroe County Humane Society and Zion Evangelical Lutheran Church of Summerfield Luther League.
- Toledo Blade, Jan. 5, 2014
[Male] b. 26 JUN 1956
[Female] b. 23 APRIL 1963
[Male] b. 22 JUN 1964
[Female] b. 15 JUN 1961
[Male] b. 5 APR 1962
[Female] b. 15 JUN 1965
[Male] b. 13 AUG 1970
[Male] b. 15 JUN 1972
[Female] b. 27 AUG 1975 MI
[Male] b. 20 OCT 1981 MI
[Female] b. 27 JUN 1975
[Female] b. 23 OCT 1978
[Male] b. 29 APR 1988
[Female] b. 13 DEC 1989
[Female] b. 11 APR 1984
[Male] b. 28 MAY 1987
[Female] b. 1989