[Female] b. 24 SEP 1998 OH
[Male] b. 21 OCT 1998 OH
[Female] b. 14 MAY 1993 OH
[Male] b. 30 JUN 1961
[Female] b. 13 NOV 1962
[Male] b. 5 MAR 1953
[Female] b. 4 MAY 1954 - d. 10 APR 2005 Ridgewood Cemetery, Wellston, Jackson, OH
[Female] b. 3 SEP 1982
[Male] b. 10 APR 1955
[Female] b. 18 DEC 1957
[Female] b. JAN 1946
[Male] b. 13 JUN 1976 Central Vermont Hosp, Berlin, Washington, VT
b. 8 DEC 1979 Central Vermont Hosp, Berlin, Washington, VT
[Male] b. 2 JAN 1915 - d. 24 JUN 1976
[Female] b. 9 OCT 1916 Sturgis, MI - d. 2 JAN 2017 Harbor Chase Memory Care, The Villages, FL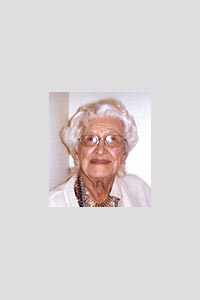 Documents:
Record of Marriage, State of Michigan
Obituary:
Georgia (Clayborn) Koyl died January 2, 2017, in The Villages Florida after a long illness of Alzheimers. She lived to reach her goal and celebrated her 100th birthday on October 9, 2016.
Georgia was born in 1916 in Sturgis, MI, to Estella and George Olds. She moved to Marshall in 1926, and graduated from Marshall High School. She married William Clayborn in 1935 and had four children: Bill, George, Mike and Richard.
Georgia and William owned and operated the Clayborn Coal Company for approximately 15 years, which is located where currently the Advisor is located in Marshall. They sold the coal business and purchased a farm on A Drive North and began farming, as well as raising and selling chickens and eggs. They retired in 1969 and moved to Pine Island, Florida. They enjoyed entertaining, fishing, and golfing. Georgia particularly enjoyed playing bridge and cooking.
While living on Pine Island, Georgia received her real estate license and sold real estate until 1984, when she retired. She was one of four charter members to start the St. John's Episcopal Church on Pine Island. She served on the vestry as well as many other committees for the church. She worked on the Calhoun County annual picnic in the kitchen for many years.
Georgia moved to Leesburg, Florida in 2009 to Independent Care Living at Lake Port Square. She enjoyed all the activities offered at the facility. She really enjoyed bridge, Bingo, and Skip-Bo. In 2012 she moved to Assisted Living and then moved to The Villages, Florida, to Harbor Chase Memory Care May, 2016, where she passed away.
Georgia was a member of Episcopal Church Women and was a Sunday school teacher in Marshall, American Business Women Association, Beta Sigma Phi sorority and a lifetime member of the American Legion.
She was preceded in death by her husbands William Clayborn, Roy Hawkins, Bob Cussen and Lloyd Koyl, and sister Alice Belle Hopkins.
She is survived by her children Bill (Gloria) Clayborn of Marshall, MI; George (Skip) Clayborn of Mesquite, NV; Mike (Dawn) Clayborn of Marshall, MI; and Richard (Katie) Clayborn of Leesburg, FL ten grandchildren, nineteen great-grandchildren, three great great grand-children.
Memorial service will be held January 21, 2017 at 11:00 am at St. John's Episcopal Church.
In lieu of flowers, donations can be made to St. John's Episcopal Church, 7771 Stringfellow Road, Pine Island, Florida 33956 or Trinity Episcopal Church, 101 East Mansion Street, Marshall, MI 49068
- Pine Island Eagle, Jan 10, 2017