Genealogy Data Page 194 (Notes Pages)
Bott Wilma Ann [Female] b. 13 JUN 1941 Wheeler Twp, MI - d. 22 MAR 2009 Dewitt, MI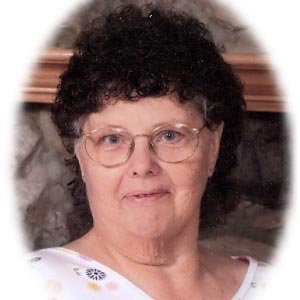 Obituary:
Wilma Ann Allen, age 67, of Dewitt, MI Died Sunday, March 22nd, 2009 at her residence. Funeral Services will be held at Smith Family Funeral Homes St. Louis Chapel on Wednesday March 25, 2009 at 2:00 P.M. , Pastor Lee Rhodes will officiate. Visitation will held on Tuesday from 2-4 & 6-8 P.M. and burial will take place at Ridgelawn Cemetery Breckenridge, Michigan. Wilma was born in Wheeler Twp. Michigan on June 13, 1941, the daughter Forrest John and Leah Jean (Riedel) Bott. She graduated from Breckenridge High School with the class of 1959. Wilma married John Edward Allen on February 11, 1961 in Wheeler, Michigan. She has resided in Dewitt for the past 43 years and was a past Girl Scout leader for several years in Dewitt. She enjoyed bingo, baking, and loved spending time with her grandchildren. She also had a daycare business for many years and enjoyed working for Gold Standard Jewelry. She was very involved with Relay for Life in Gratiot County. She is survived by and her husband John E. Allen of Dewitt, MI; son Michael and fiancee Tina Baker Allen of Charlotte, MI; daughter Kellie and Michael Neal of Dewitt, MI; son Mark Allen of Dewitt, MI; son Marty and Carrie Allen of Reed City, MI; 5 grandchildren Michael Neal II & fiancee Nicole Levine, Kasey Neal, Cutler Allen, Brooke Allen, and Malorie Allen; sister Darlene and Larry Culver of Alma, MI; brother Kenneth and Karen Bott of Merrill, MI; several other nieces & nephews. She was predeceased by her parents, and 1 brother. In lieu of flowers memorials contributions may be made to Ingham Hospice or American Cancer Society.
- Smith Family Funeral Homes, St. Louis, MI.
---
Rodocker Ronald Darrell
[Male] b. 1 FEB 1941 - d. 22 DEC 1991 Deepdale Memorial Park, Delta Township, Eaton County, MI
---
Beach Elaine Ann
[Female] b. 18 OCT 1941 Lansing, MI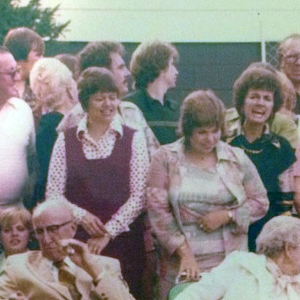 Elaine (in purple) with husband Ronald (with the mustache) and daughter Rhonda (in pink).
---
Herendeen Samuel Evan
[Male] b. 28 APR 1987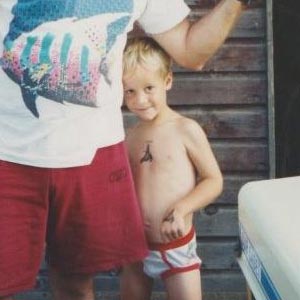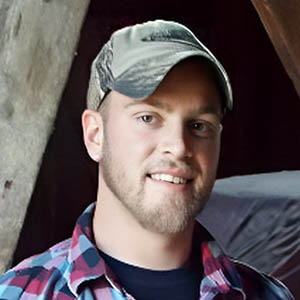 ---
Kuznik JoAnn A
[Female] b. 2 DEC 1950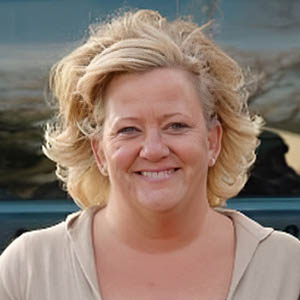 ---
Fulgencio Olga Inez
[Female] b. 13 SEP 1943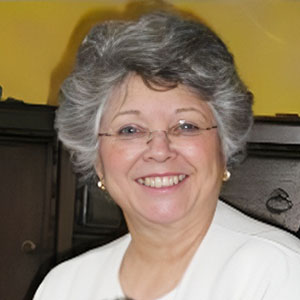 ---
Kopec Deborah Jean
[Female] b. 30 JUL 1952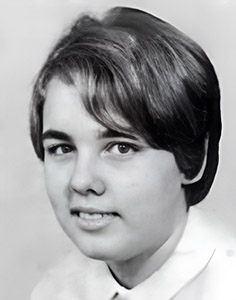 ---
Toomey John
[Male] b. 8 DEC 1926 - d. 28 NOV 2007
---
Reed Jay H
[Male] b. 29 SEP 1898 OH - d. 1 FEB 1982 Lansing, Ingham, MI
---
Wright Annette (Nettie)
[Female] b. 18 MAR 1905 MI - d. 1 OCT 1984 Lansing, Ingham, MI
---
Shermak Ronald Kent
[Male] b. 13 DEC 1947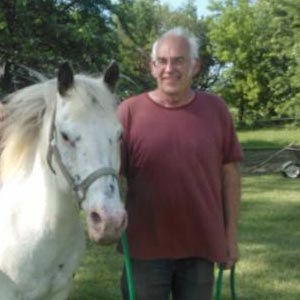 ---
Coupe Judy Ann
[Female] b. 15 JUN 1948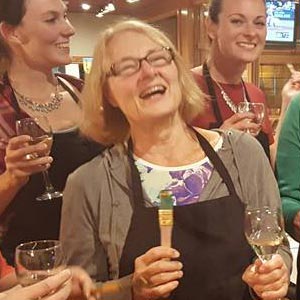 ---
Brown Russell T
[Male] b. 24 OCT 1922 - d. 30 JAN 2007 Rose Cemetery, Bath, Clinton, MI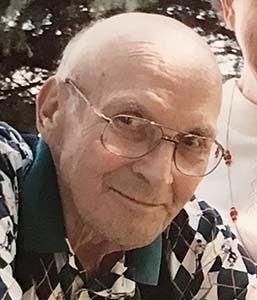 Burial Monument, Rose Cemetery, Bath, Clinton, MI
Military Service plaque, Rose Cemetery, Bath, Clinton, MI
Obituary:
Russell T. Brown died January 30, 2007 at the age of 84. Born October 24, 1922 in Duplain Township, he was the son of Vere and Maybelle (Risley) Brown and lived in St. Johns and Lansing before moving to Bath. He was a member of the Civilian Conservation Corps in 1940. Russell was a Technician 5th Grade in the US Army during WWII serving 34 months in the South Pacific. He enjoyed golfing, bowling, and gardening and was an associate member of Spile Dam Hunting Club in Newberry. Russell retired from the Michigan Dept. of Transportation in 1985 after 28 years of service. Just prior to his retirement, he graduated Magna Cum Laude with an Associates Degree in Applied Technology from Lansing Community College, was a member of Phi Theta Kappa, and taught Heating and Air Conditioning at LCC. On April 12, 1950, he married Nanette L. Phelps in Lansing and she survives him.
Also surviving are two sons, Vere (Sheri) Brown of Laingsburg and Jack (Dawn) Brown of Bath, six grandchildren, Korinne (Aaron) Orlowski, Jacob (Emily) Brown, Caleb, Pete, Amanda, and Elisabeth Brown, one great grandchild, Deacon Aaron Orlowski, five sisters, Dorothy Gates of Lansing, Lillian Searles, Isabelle Cleland, Lucille Davis all of St. Johns, and Donna (Edward) Preston of Harrison, several nieces/nephews/cousins.
Funeral Services will be 11:00 A.M., Friday, February 2, 2007, at Osgood Funeral Home, St. Johns, burial at Rose Cemetery, Bath, with Pastor John Walworth officiating. The family will receive friends 2-4 P.M. and 6-8 P.M. Thursday and 10-11 A.M. Friday at the funeral home.
- St. Johns Independent, February 3, 2007
---
Zarka Andrea Marie
[Female] b. 1979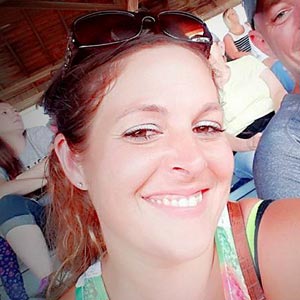 ---
Garrison Ross Weldon
[Male] b. 8 FEB 1895 - d. 1962 Lansing, MI
---
Sabrosky Anna Marie
[Female] b. 14 SEP 1895 - d. 21 FEB 1943 Deepdale Memorial Park, Delta Township, Eaton County, MI
---
Swearingen Ann Patricia
[Female] b. 23 JAN 1949 - d. 2007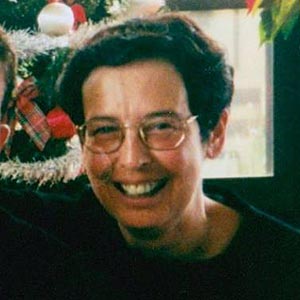 ---
Pakula Anthony Clemens
[Male] b. 13 APR 1928 Detroit, MI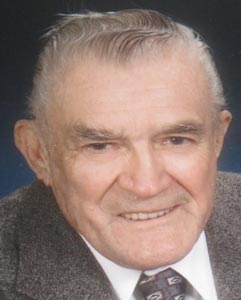 ---
Zelinski Eleanor
[Female] b. 6 NOV 1936 Detroit, MI - d. 24 NOV 2002 Boulder City Cemetery & Mausoleum, Boulder City, NV
Mausoleum nameplate, Boulder City Cemetery & Mausoleum, Boulder City, NV
Obituary:
Eleanor Zelinski Pakula, 66, of Boulder City died Monday in a local care center. She was born Nov. 6, 1936, in Detroit. A resident for 22 years, she was a retired cashier.
She is survived by her husband, Anthony C.; four daughters, Kathleen Schultz of Charlotte, N.C., Linda Lee Gorman of Onondaga, Mich., Sandra K. Pringle of Canton, Mich., and Janet Dees of Arkabutla, Miss.; three sons, Michael Pakula of Sunrise, Fla., David Howells of Grand Island, Neb., and Andrew Howells of Fallon; four sisters, Ester Slaga of Detroit, Patricia Luteran of Mesa, Ariz., Florence Snyder of Topock, Ariz., and Ruth Naron of St. George, Utah; two brothers, Robert Stoss of Michigan and Richard Zelinski of Dearborn Heights, Mich.; 26 grandchildren; and two great-grandchildren.
Visitation is scheduled 10 a.m. to 4 p.m. Friday in Palm Mortuary, 800 S. Boulder Highway, Henderson, followed by a 6 p.m. wake in St. Andrew Catholic Church, 1399 San Felipe Drive, Boulder City. Mass will be celebrated at 10 a.m. Saturday in St. Andrew Catholic Church, followed by entombment at Palm Mausoleum, Boulder City.
The family suggests donations to the American Cancer Society, 1325 E. Harmon Ave., Las Vegas, NV 89119.
- Las Vegas Sun, November 27, 2002
Steinmiller Joan June
[Female] b. 9 JUL 1931 - d. 29 JUN 2012
Obituary:
Joan June Schweger, 80, of Mesa, Arizona passed away Friday June 29, 2012. Mrs. Schweger, a homemaker, was born in Chicago, IL and had been an Arizona resident for 10 years. There will be a celebration of her life, Tuesday, July 3, 2012 at 12:00 noon at Springdale Village, Roberto's Restaurant Tea Room, 7255 E Broadway Rd, Mesa, AZ 85208.
- Mountain View Funeral Home & Cemetery
---
---
This HTML database was produced by a registered copy of

GED4WEB version 4.41
Back to Top Of Page
Copyright 2021 Timothy Gorman